The purpose of this web site is to provide, in good faith, non-contractual information on Coil S.A./N.V. and its subsidiaries ('Coil') and certain technical aspects of its products and services.
Coil does not warrant, expressly or impliedly, the accuracy or completeness of the information contained in this web site, which is subject to change without notice.
Nothing in this web site will constitute all or part of an offer or a condition or warranty of any agreement. No contractual arrangements may be made by Coil and any third party by reference to any information contained in this web site.
Intellectual Property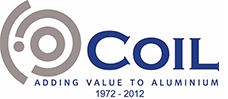 The content of this web-site is the property of Coil, including the following trade-mark of Coil and the various 'C-xxxxxx' product names contained herein and are protected by domestic and international copyright laws.
The use of this website by a visitor does not grant, expressly or impliedly and interest, whether proprietary, license, or otherwise, in the intellectual property rights, or any other rights which may exist, now or in the future, in respect of the website or its contents.
The visitor may download, copy, display, exhibit, share, or otherwise distribute the content of this website, but for his own private, non-commercial purposes only and on the condition that the visitor explicitly acknowledges Coil as the provider and owner of such content; the content may not be published, in whole or in part, in any form of publicly available media.
Coil reserves the right to require the visitor to delete, destroy or otherwise remove any content which is used in a manner that in the opinion of Coil is contrary to the above restrictions or is otherwise inappropriate, derogatory or offensive.
The visitor may in no way modify, reformulate, adapt, alter, adjust, change, disassemble, frame or decrypt any of the content of this Website.
Periodically, Coil may provide links to third party web sites for the convenience and information of the visitor. Coil is not responsible for the content of such third party web sites or the use of the sites. Links to third party web sites do not constitute or imply any endorsement by Coil of these websites, any products or services described on these sites, or of any of their other content.
Minors
We do not consider any of the content of this web site to be offensive or otherwise inappropriate for minors. We cannot be held responsible for any offensive or inappropriate content which may be contained on links to other web sites which may periodically be included on our web site.
Privacy
It is the policy of Coil to respect the privacy of visitors to our web site. The only personal information which will be collected from visitors will be as a result of enquiries sent to us by visitors in the 'Enquiry Form' section of the web-site. This information will not be communicated to any third party outside our Company except, where appropriate, our international sales agents and distributors.
Information of a non-personal nature will be normally collected from visitors on a computer-to-computer basis but for statistical purposes only or to facilitate future usage of our web-site by the visitor.
This will typically take the form of Cookies (for further information see http://en.wikipedia.org/wiki/HTTP_cookie) or Web Beacons (for further information see http://en.wikipedia.org/wiki/Web_bug). You may configure your internet browser to reject Cookies or Web Beacons; please refer to the browser's User Manual.
This information may be shared with our web site designer or service agent for the purpose of improving the impact of our web site.
Periodically, Coil may provide links to third party web sites for the convenience and information of the visitor. These sites may have their own privacy statements in place and Coil recommends that visitors review such privacy statements before use of third party web sites